Boxymoxy
A downloadable Commodore 64 game for Windows, macOS, Linux, and Android
The stupid old Wizard had cast a wrong spell, creating an invasion of chattering skulls and now no one can sleep! Two cats, Boxy and Moxy, are set to clean up this mess. Using their combined powers, you will traverse 80 levels over four areas in order to destroy all skulls and restore the beauty sleep to the people of the old Kingdom!

Developed by Antonio Savona (of P0 Snake and Planet Golf fame), designed by Lobo and with a soundtrack by Aldo Chiummo, Boxymoxy is a fiendish (or felineish?) puzzle game for the Commodore 64 unlike anything else you have ever played. Inspired by Lobo's cat Gelsomina, with a little Sokoban and a tiny dash of Angry Birds thrown in for flavour, Boxymoxy is a game about moving cats and smashing skulls using the power of logic.
Boxymoxy is guaranteed to keep you entertained for hours in the purr-suit of that perfect or even under-par score! Simply put, it's the cat's whiskers!
80 challenging puzzles set across three different areas!
Unique gameplay! Purr-fect puzzle action!
Player performance-graded progress system with on-cartridge saving!
15 digitally-sampled and distinct meows from 12 cats!
PAL/NTSC compatibility!
---
Save Children's lives
Defend their rights and help them fulfil their potential, from early childhood through adolescence. Boxymoxy is a Charity project. The game is free to download, but every donation will go to UNICEF.
---
Your objective in Boxymoxy is to destroy all the skulls on each level by moving and switching between the two cats (Boxy and Moxy). When you set the cats in motion they continue moving in a straight line until they hit an obstruction or wall.
In game, press 'FIRE' on the joystick in port 2 to switch between Boxy and Moxy, and push in a direction to move the currently selected cat. Hold down 'FIRE' for a second or so to open the pop up options menu, allowing you to select music or sfx, restart, quit or resume the game.

Moxy, the blue cat, can destroy skulls but will stop when colliding with Boxy or walls.

Boxy, the pink cat, cannot destroy skulls but serves as an additional 'moveable wall' for Moxy. Boxy will help you manoeuvre Moxy into areas he cannot reach on his own.
Each level has a target number of moves in which you should aim to complete the puzzle in. You can complete a level using more moves, but you will not achieve the maximum number of stars... and stars unlock future levels!


---
Note that Boxymoxy was programmed to run exclusively from cartridge, as it continuously streams data from the ROM during play. For this reason, a D64/Disk version is not available. Instead, a downloadable .CRT is available in both GMOD2 and EasyFlash format to use via emulation or on real hardware devices such as the Ultimate 1541-II. Please check that your hardware is compatible with these formats!
---
Buy Boxymoxy on Cartridge for your Commodore 64 Computer!
Enjoyed Boxymoxy on your modern-day PC? Have an old Commodore 64 stashed away in the loft? Well, you'd be a fool not to grab a physical copy of the C64 version - it comes boxed with vinyl stickers, badges, an A3 poster, full-colour manual and even a couple of postcards, just like in the good old days!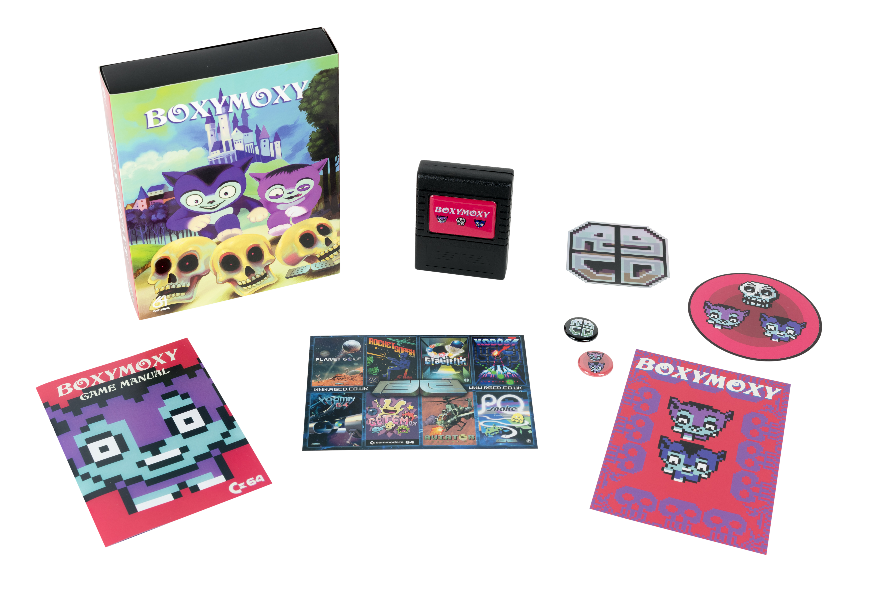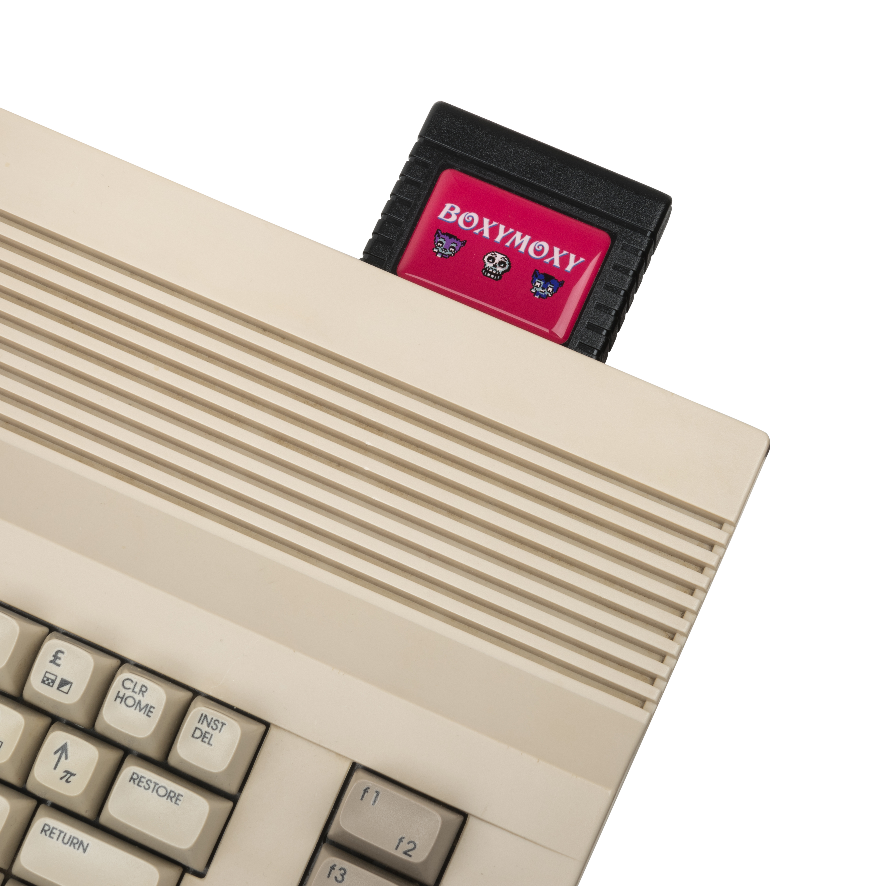 Head on over to our online store to order your copy today :)
Download
Click download now to get access to the following files:
Comments
Log in with itch.io to leave a comment.
I bought the physical copy of this game. During the last 3 days I played it a lot together with my wife. Really enjoyed the game. So cute. Not too hard and not too easy. Maybe the next Version with a 2 player mode?
Is the a way to reset the cartridge to start over again?
Yes: press fire button while booting your c64, then release it. It will bring up a menu to erase your progress
Awesome game - cool graphics, very nice atmosphere, and the puzzles have the exact right level of difficulty!
I am playing the game on a Ultimate 1541-II using the easy flash cartridge. Is it possible to save progress somehow? I don't want to start from the beginning all the time.
you have to disable cartriges and Ultimate Audio before starting the game and then you can save the progress using the F5 menu option "Save Easyflash".
Remember that save happens only when you exit a game and go back to the main menu, so the above procedure should be done after that.
Enjoy!
A very cute game with splendid graphics, music and sound effects. Great game play also. Well done :)

I was looking forward to this game. It's very kind to offer it for free, I still sent you some buckazoids. I would feel bad to get such a beautiful game for free. ;)

Thank you very much for your kind words and the buckazoids, which go to charity.
Enjoy Boxymoxy!